Tell us about your joystick, write a little review. Post a picture of your joystick (doesn't have to be your exact one, but an image of the same model) Tell us the pro's and con's of your stick, and tell us how well it works with YSFlight, how much does it cost? and give it a mark out of 10.
I'll write one about mine to give you an idea:
Laptop touchpad
Useless if you plan on getting precision for anything
1/10 (AKA terrible)
Logitech Attack 3
I had this for a while. YS had no trouble reading or running it. Throttle was very easy to control and it is quite a comfortable stick. After a few months of use, the X-axis started going out of line. And then about a month later, I accidentally smashed the USB pliug.
So onto the next stick:
Logitech Extreme 3D Pro
I had this thing shipped in a few days after. Similar to the ATK3, this one has a few more features: a few more buttons, an 8-way POV hat switch, a more leveled base, a thumb button, and a handle-twist axis (which can be used for rudder). The only complaint I have with the X3D is that it's exclusively a right-hander stick. The placement of the base and thumb buttons and hand rest pisition make it a right-hand only controller. Other than that, it beats the ATK3 by a long shot. It's lasted more than a year now.
Last edited by Prince Darkstar on Wed Jul 24, 2013 9:56 pm; edited 8 times in total (Reason for editing : Updated)
IAVA Executive Officer




Posts

: 136


Join date

: 2011-09-09


Location

: Globetrotter



I actually have 2 now, one of theme I don't use.
Logitech Extreme 3D Pro
I've had the Extreme 3D Pro for a while now. It's got 12 buttons (6 on the handle and 6 on the base) along with a throttle slider, just like the Attack 3. The pitch axis, however, keeps spiking a heck of a lot, and it's getting a little un-reliable. One handy feature of the Extreme 3D Pro is that the handle twists, allowing for moving the rudder left & right.
7/10
Saitek PZ44 Pro Flight Yoke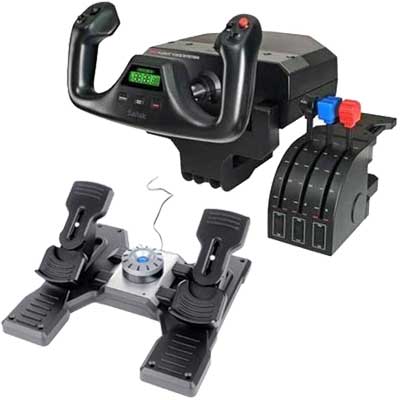 The best controller I have ever used. I got it for a hefty price of $125.84 from Amazon (it was actually on sale at the time, surprisingly). It's easier to fly than the joystick, since you have 2 handles instead of one. The only problem is that it is a little over-sensitive for input, so it's very crazy. But overall, it's a nice one.
9/10
Last edited by Darris XTMRage on Sun Apr 08, 2012 4:59 am; edited 3 times in total
Friend




Posts

: 22


Join date

: 2011-10-05


Age

: 25


Location

: Here



PlayStation 2 Controller
Works great. I hooked it up to my computer and it's perfect, but every now and then the pitch axis spikes.
8/10
IAVA Moderator




Posts

: 4


Join date

: 2011-11-27


Age

: 22


Location

: 80,000 feet and climbing



I'm still on keyboard control. But for airliners, it's well setup by CaptainYS.

It is awful for combat, however, and I am lucky that I don't dogfight for a living...
IAVA Chief Executive Officer




Posts

: 57


Join date

: 2011-09-16



I've used the Clone Eagle joystick.The aircraft moves really agile,but i wasn't comfortable with it,so,my joystick is...
Keep Trolling,Johnny Troller.
But i really use keyboards to maneuver.
Inactive




Posts

: 39


Join date

: 2011-09-19


Age

: 21


Location

: Brazil



---
Permissions in this forum:
You
cannot
reply to topics in this forum